What is Safer Choice Standard?
Safer Choice is an optional labeling program established by the United States Environmental Protection Agency in the 1990's. It encourages cleaning product manufacturers to use chemicals that take into consideration the environment and human health. A new logo came out in 2015 making it easier for consumers to identify products that meet the standards.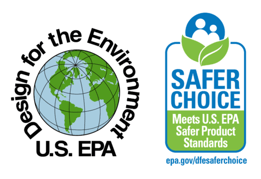 The program's early years focused on producing analytical documents and technical resources. In the mid 2000's, labeling products that met a set of higher standards began. In 2015, the new Safer Choice logo came out. The logo helps consumers identify products that meet standards addressing human and environmental health.
Why Participate in Safer Choice Standards?
Stand out to consumers:
Since the 1990's, consumer interest has increased for products that are both safe at home and for the environment. Safer Choice enables you to label products with the logo, helping you stand out to consumers.
Stand out to retailers:
Many retailers like, Walmart and Target now have initiatives that prioritize products that meet specific health and safety guidelines.
Information on this page is presented to assist you in evaluating our product. It is intended for use by persons having technical skill at their own discretion and risk. Sea-Land does not guarantee favorable results and assumes no liability in connection with its use. This information is not intended as a license to operate under, or recommendation to infringe, any patent covering any material or use.