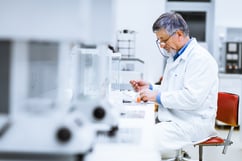 Sea-Land Chemical Company is proud to highlight a recent addition to our portfolio of outstanding polyalkylene glycol lubricant base stocks, the BASF Breox® 60 D series. These lubricant additives are diol initiated water soluble PAGs that combine high performance with a superior health and safety profile. Breox® 60 D is nontoxic and GHS label-free at all viscosities. Registration with NSF as an HX-1 ingredient for use in H1 lubricants, approved for incidental food contact, is pending.
Breox® 60 D PAGs are available in viscosities at 40⁰C of 220, 320, 460, and 1100 centistokes (ISO Viscosity Grade). All grades are registered globally across major markets. Breox® 60 D PAGs are much lower in friction than hydrocarbon base stocks in MTM (Mini Traction Machine) tests, contributing to the development of energy saving formulations. They also result in lower wear in four ball tests than synthetic hydrocarbons. Their foaming tendency (ASTM D-892) is very low compared to other PAGs. The Breox® 60 D 220 is readily biodegradable and suitable for use in environmentally sensitive applications.
Breox® 60 D PAGs nicely complement the existing BASF PAG portfolio, including water-insoluble, and water-soluble types, across a wide range of viscosities and water thickeners. The combination of energy savings, low wear, excellent health and safety profiles, and global registrations make the Breox® 60 D PAGs ideally suited for your sustainable development programs.
Learn more about the BASF synthetic base stocks, including their extensive PAG and Ester base stock product ranges, by requesting samples or literature from Sea-Land Chemical Company.