CORRGUARD™ FLEX
Environmental, health and safety (EH&S) regulations, new processes and equipment, and new materials, together with increased end-user focus on improving the cost efficiency and productivity of their operations, has significantly increased the complexity of the global metalworking fluids market.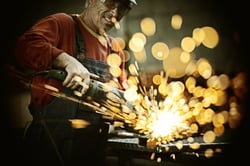 While it has become increasingly difficult to formulate metalworking fluids that fulfill performance requirements, EH&S criteria, and cost demands, new formulation tools like CORRGUARD™ FLEX from ANGUS Chemical Company can help formulators safely and effectively achieve many of these objectives.
Available exclusively from Sea-Land Chemical Company, CORRGUARD™ FLEX is a primary amine with less than 1% secondary-amine content by specification and was designed to enable metalworking fluid manufacturers to produce global formulations with optimized functionality and enhanced flexibility, while maintaining exceptional performance. Metalworking fluids formulated with CORRGUARD™ FLEX can help metalworking operations reduce their downtime, operating costs and waste by providing improved performance and functionality from their fluids.
Superior multi-functionality

– Neutralization meets corrosion control, pH stability and, when formulated with a wide range of registered biocides, fluid longevity.

Ease-of-use

– Completely water-soluble, enabling outstanding compatibility in a broad range of metalworking fluid formulations.

Globally compliant

–

Broadly registered, primary amine with less than 1% secondary amines to support global formulation requirements.
With its unique combination of benefits – neutralization, pH stability, corrosion control, fluid longevity, and broad registration – CORRGUARD™ FLEX is a sustainable formulating tool that provides metalworking fluid producers the flexibility to optimize the functionality and overall value of their metalworking fluid formulations.